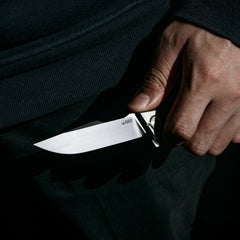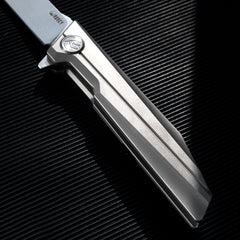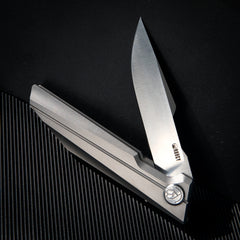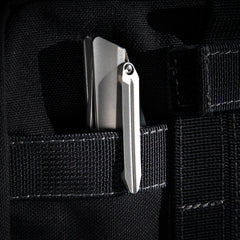 KU205 is a wonderful knife for outdoor enthusiasts, ideal for cutting, food prep, rescue, edc gear, and wood.Made of well heat treated AUS10 stainless steel blade and 6AL4V titanium alloy handle scales.The most important advantages of KU205 is the light weight design of this knife, gives you comfortable carry feeling, easily control the knife for daily use. Thence, it is a great companion knife for camping, hiking, hunting,fishing and survival preparedness.
Highlighted Features
1 AUS10 stainless steel blade offers high cutting performance. AUS10 steel provides razor sharp blade and fabulous edge retention, with manual brush finish to have a better surface looking. Furthermore,it's a Drop point blade, can be used in many situations, great for general purpose use and ideal for hunters.
2 6AL4V Titanium handle provides excellent corrosion resistance to withstand rusting in order to ensure its long using time.The durability of titanium handle is absolutely high, without any doubt in quality. The handle is designed by ergonomics theory, it perfectly fits your hand, along with better carry feeling.
3 The ball bearing pivot system provides a great help for opening or locking the blade, press the finger flipper tab, the blade moves smooth and quick. Due to the frame lock system, the blade lock firmly when it's not being used. Thus,easily use one-hand to operate the knife.
4 The pocket clip upgrade the function of this wonderful knife, improves its practicability ,makes the knife become more convenient for everyday carry.It is very easy to operate the clip with your tip-up or tip-down carry because of its great flexibility.