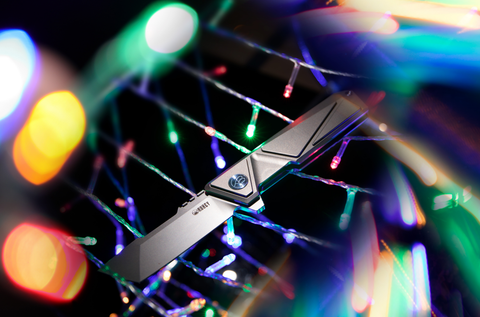 Kubey Avenger KB209 features with a 3.15 inch sand blast finished
blade and a light weight Ti-handle for comfortable grip. Hardend tanto
blade AUS-10 stainless steel offers an exceptional cutting
perfromance and nice edge retention. Durable titanium handle with
grooves brings a good control outdoor knife during use. Foldable blade
opens extremely smoothly thanks to the ball bearings in the pivot.
Pocket knife with frame lock ensures safety and effortless blade
opening and easy to close. It comes with a titanium pocket clip for
secure and convenient pocket carry. Kubey Avenger is got well fit and
finish which will serve you well in your daily use.
SPECS:
Brand: Kubey
Item Name: Avenger
Model: KB209
Full Length: 7.87 in / 20.0 cm
Blade Length: 3.15 in / 8.0 cm
Blade Width: 1.06 in / 2.7 cm
Blade Thickness: 0.16 in / 4.0 mm
Blade Material: AUS-10
Blade Surface: Sand Blast Finished
Blade Hardness: HRC59-61
Blade Type: Tanto Point
Blade Grind: Flat
Handle Length: 4.72 in / 12.0 cm
Handle Material: 6AL4V titanium
Pivot Cap: 6AL4V titanium
Washers Material: Ceramic Ball Bearing
Screws Material: 6AL4V titanium
Back Spacer: 6AL4V titanium
Clip Material: 6AL4V titanium
Item Weight: 5.30 oz / 150 g